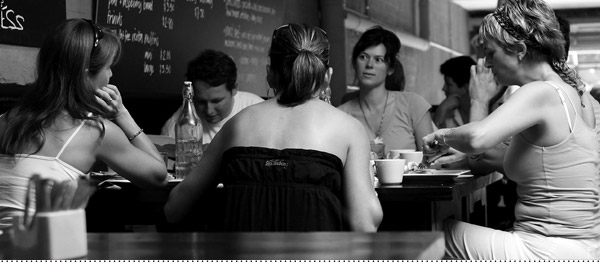 Our Espresso Bar is a popular spot for locals and visitors to take time out for a coffee or one of our great baguettes in Alexandria, Sydney. You can also buy coffee beans online delivered acorss Australia to Melbourne, Brisbane, Perth and Adelaide.We'll leave it to the Sydney Cafe Guide, Foodies Guide to Sydney and Corridor Kitchen to describe us:
---
Crave cafe in Alexandria, Sydney add a much-needed splash of colour to Alexandria's industrial grey canvas. These friendly coffee monsters are responsible for some of the finest coffee in Sydney, roasting fresh, local Australian green beans, among others. Food is cleverly sourced from local producers as well: Brasserie Bread from Botany, Patchett's pies from nearby Mascot, BloomspoonFriands from Leichardt. Even the uber-friendly, good looking staff-appear to be sourced locally.



---
The view from the mezzanine cafe at Crave Coffeein Sydney is a good one for coffee lovers: from here you can see directly into the warehouse below, where the massive roaster does its work. Come on the weekends and as you sip your piccolo latte (a speciality of owner Chris Sharp) and chow down on a locally made Patchetts Pie, you'll have that unmistakeable aroma wafting up towards you. As well as selling to some of Sydney's top cafes, Chris also does a roaring trade in retail and wholesale of coffee beans, nespresso coffee pods, tea and drinking chocolate - all blended onsite. So before you leave, pick up a bag of their chai latte mix or the ever popular kick-arse blend.